everything that is underlined will take you somewhere!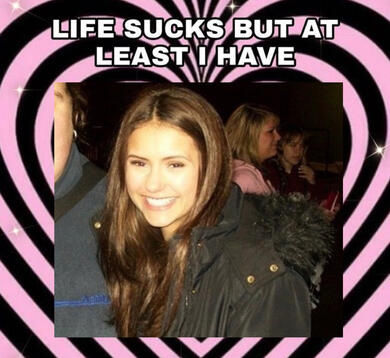 MIA
16 she/her bisexual
black + desi american hindu
virgo ☼ taurus ☾ sagittarius ↑
gendered terms OK!!
insta cc twitter spotify priv
LOVES 00s teen dramas/movies, reading, ariana grande, fashion, character analyses, music, editing, romcoms, art, makeup

HATE people who ship real people, mcyt stans, larries, people who take stan twt discourse too seriously
please use a warning for vomit, insects or bugs, i don't use warnings for food, i curse a lot, i share my opinion a lot, sb to unf
-14/24+, actively hate my favs, speak over/for minorities, can't handle other people's opinions, ship real people, basic dni criteria
NOW REWATCHING... gossip girl (2007) "maybe you are so focused on how everyone else perceives you that you no longer know who you are. and that's too bad because if you could only see what i see."
CHARACTERS
elena gilbert, caroline forbes, hayley marshall, klaus mikaelson, lizzie saltzman, davina claire, inej ghafa, blair waldorf, genya safin, nikolai lantsov + more!
SHIPS
beklena, bamon, carolena, klayley, kolvina, klaroline, hosie, dair, sethmer, percabeth, herondaisy, delena, blackstairs, malina, genyalina, zoyalai, kanej
SHOWS/FILMS
the vampire diaries, the originals, legacies, the oc, gossip girl, dynasty, shadow and bone, miraculous ladybug, the mcu, clueless, various romcoms
BOOKS
grishaverse, the hunger games, percy jackson + spin-offs, the shadowhunter chronicles, all for the game, all the bright places, harry potter